Description
This plugin retrieve weather reports from Netatmo stations. From favorite weather stations in your (free) Netatmo account. Creation and management on https://weathermap.netatmo.com
Configuration
Once the plugin is installed, you need to fill in your Netatmo connection information:
Client ID: your client ID (see configuration section)
Secret client: your secret client (see configuration section)
Username: username of your netatmo account
Password: password for your Netatmo account
Synchronize: allows you to synchronize Jeedom with your Netamo account to automatically discover your "favorite" Netamo stations, to you or to your neighbors. To do after having saved the previous parameters.
Retrieving connection information
To integrate your Welcome, you must have a client_id and a client_secret generated on the site http://dev.netatmo.com.
For this you must create your application (free): https://dev.netatmo.com/apps/createanapp#form

FAQ
Does the plugin rely on third-party APIs?

Yes, the plugin uses the Netatmo APIs to retrieve data from your favorite weather stations

When data is updated ?

Every 15 minutes, by the Jeon Cron task.

Where can I manage (add / delete) weather stations?

Only from https://weathermap.netatmo.com. Once connected, you can put stations in your * favorites *. Start synchronization, and the devices are created (active + visible).

If I delete a weather station from my favorites, what happens?

The equipment is * deactivated *, but remains present in Jeedom. You can delete it manually.

Why equipment's name has 'star' ( * ) as prefix ?

Just to highlight that this name come from Netatmo. You could rename it, it won't be override on the next synchronisation.

You've got a JS error like 'Uncaught TypeError: cmd.find(…).delay(…).animate is not a function' ?

This plugin use new widget from Jeedom v4. But some others plugins create conflict with those widget. Please, update yours plugins, developers have fixed it. (eg : horlogehtc )

Data are not updated, even with cron15 enabled ?

There are some technical background conflict with others plugins. Please, update yours plugins, developers have fixed it (eg : NetatmoPro )
Example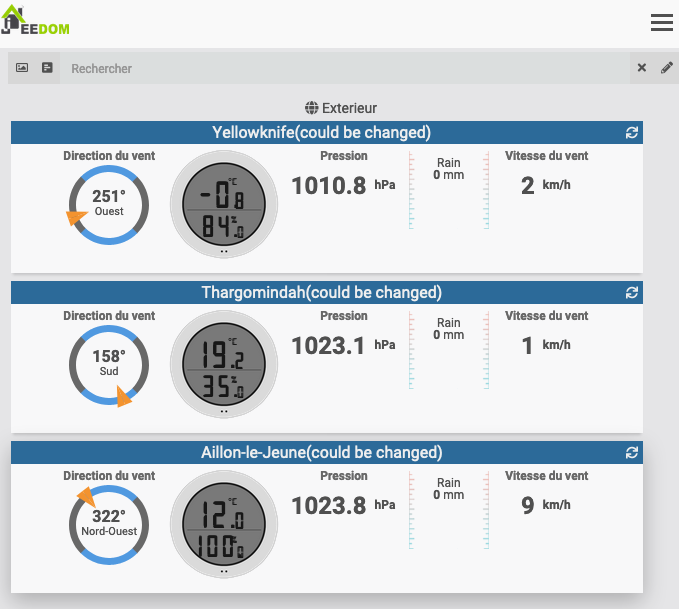 Equipments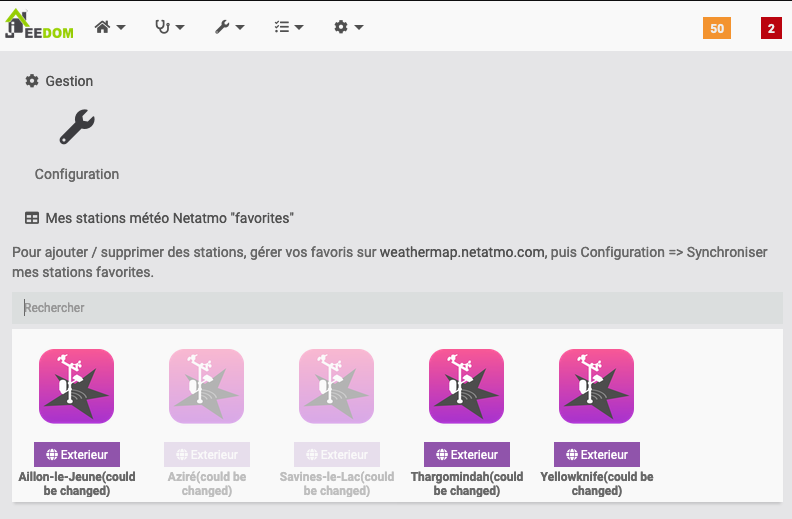 Commands